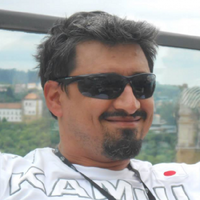 Abramo Tesoro has been a member of Archimede Informatica since 2005, a member of the board of directors since 2011, an is an IT expert and PhD at the University of Pisa.
He develops web pages and his competences range from the CSS language to typoscript.
He is an expert configurator of CMSs with particular knowledge of TYPO3.
In 2017 he obtains the certification TYPO3 Editor.
He also deals with web graphics and has developed the TYPO3 extension for VimeoVimeo Ads Player.